Learn and practice different immune system strengthening techniques.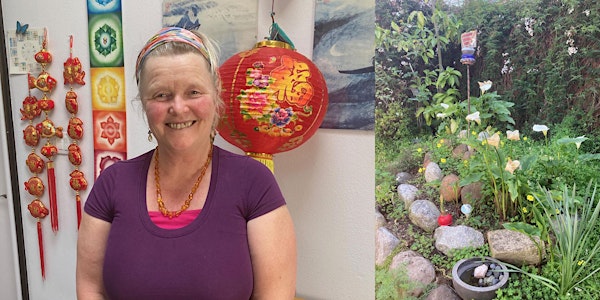 Our host, Sibylle Dreyer, LAC, has been in practice at the Healing Laughter Center for 24 years. She uses all kinds of modalities: acupuncture, acupressure, the Spinal Revitalization method, Dorn method, Postural counseling, heart sound recorder, nutritional counseling, food supplements and Healinglaughter.
---
The immune system in Chinese medicine is what it was always about, 5000 years and counting: protect your Wei Qi. If your Wei Qi is not strong enough, exogenous factors can invade the body. Balanced food, sleep, an even mind at peace (no stress) all are important.
Where does illness (outside energy) enter the body? It comes in at the back of the neck and shoulders. If your neck or shoulders are tight, you are more vulnerable. Sibylle recommended rubbing your shoulders if tight – take one hand to squeeze the opposite shoulder muscles.
Hot and cold showers / Kneipping
Sebastian Kneipp, a folk hero in Germany, wrote My Water Cure.
From Wikipedia: Sebastian Kneipp was a German Catholic priest and one of the forefathers of the naturopathic medicine movement. He is most commonly associated with the "Kneipp Cure" form of hydrotherapy, the application of water through various methods, temperatures and pressures, which he claimed to have therapeutic or healing effects. He built several hospitals in Bad Wörishofen.
Take a large bucket (Sibylle uses a large plastic garbage can) and fill it with ice water. She adds Dead Sea salt and iodine. Stand in the bucket of cold water and keep your feet moving/marching. When your feet get cold you get out and walk around till your legs warm up then do it again. Cold/hot therapy is like a massage for the heart. 
Qi body brushing
Do it first thing in the morning.
Brush in the direction of the meridians (up from inside the feet to chest then down the outside – then from armpit under arm to hand then top of the hand and arm to the shoulder)
Self massage of ear, face and feet
If you think you are having a heart attack, bite your little finger at the top knuckle
Loofah – brush down the middle of back then down the back of the legs.
If you have low blood pressure, rub your ears starting at the top of the ear. If you have high blood pressure, start at the bottom of ear and massage up.
Qigong
Qigong exercises the qi and boosts the immune system. Sibylle showed us the Long Life Chi Gong movements.
AANNNND Healinglaughter
Sibylle says that laughter without reason is the best therapy for the immune system. It decreases blood pressure and puts you in a good mood.  She suggests lifting arms over your head, breathe in then bend over and laugh while slapping your legs. After several rounds, be quiet and experience the shift in energy. 
~ Karen and Jay Hamilton-Roth